HOME > About the Library >
Introduction

The Torch Trinity Library is the academic resource center for the school and provides abundant material for students to study and browse in a quiet, comfortable environment. Torch Trinity Library is one of the best theological libraries in Korea and now endeavors to become the best theological library in Asia.
Our library is furnished with 195 seats in total which includes the carrel for the Ph.D. students.
The facility houses some 60,000 books, more than half in English, over 310 domestic and international periodicals, some 5,300 dissertations and theses, over 800 micro-form resources, as well as numerous audio, video and CD-ROM resource. The library uses the Library of Congress Classification(LCC) system. Our catalog is accessible through the online service at the Torch Trinity Library's website (http://lib.ttgu.ac.kr).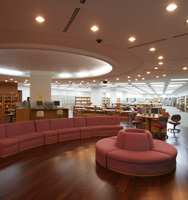 Year

Contents

1991.12.07

Torch Library opened

1992

Computerization of library services Promotion

1993

Operating Loan, Cataloging, Retrieval system

1998

Library is affiliated to the Torch Trinity Graduate University
(formerly TTGST)

2005.04

Library Renovations

2005.04

Operating Acquisitions, Periodicals, Articles Index System

2007.11

Operating dCollection System

2009.09

Ph.D Carrel opened

2010.08

Library Homepage changed